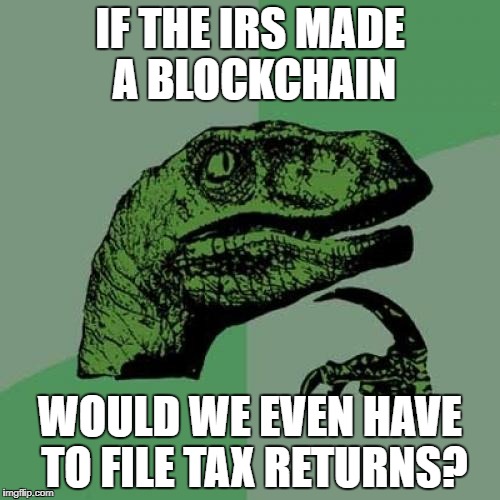 If you're like me and reside in the US, you have probably dreaded doing your taxes this year due to investing in a bunch of altcoins and making numerous trades. Fortunately, I heard about a site called Bitcoin.tax from Reddit. I decided to give it a go and it really saved my skin.
TL;DR: Bitcoin.tax is awesome and well worth the cost.
Overview
Chances are, if you call five accountants, maybe one of them will know what the heck to do with crypto. The IRS has clarified that crypto-to-crypto transactions are, in fact, taxable events, so this adds to the tax burden. Many people haven't cashed out, but will still owe a substantial amount on their tax return.
It is important to note that even if you have no profits, you still must file a return! Who knows, you might even be able to deduct some capital losses. The IRS may be clueless now, but if they get up to speed, it will be really easy for them to track transactions through the Blockchain, so I would recommend to everyone to carefully report all crypto transactions!
Bitcoin.tax costs $29.95 to process up to 10,000 transactions per year (there is a free version that can process up to 100 transactions with limited features).
Adding Trades
The transactions were surprisingly easy to import- All I had to do was either download a csv file or enable API access to every exchange where I made a trade. Surprisingly, all exchanges that I used had, at the very least, a feature to export all transactions.
After adding all exchanges, you have the option of adding income (from mining or other sources) or spending of cryptos. Once you have entered all info, you can see your trades in a report, which is already put into the 1040 D format (see below). The first time I did this, Bitcoin.tax even highlighted a few rows in red that did not have corresponding trades, which were sales of the coins that I invested in from ICOs. This was a neat feature that prompted me to go back to the first tab to manually enter my ICO purchases.
Generating 1040 Schedule D
At this point, I exported into a .txf file that can be imported into TurboTax or H&R Block. The only caveat here is that I had to use the desktop version of H&R Block to be able to import this file, which I simply downloaded from their site, so it wasn't a significant hurdle. Importing this file into H&R Block generated the report needed for my tax return.
That's all I had to do! The whole process probably took under 20 minutes and saved me a lot of headache and worry. I would highly recommend Bitcoin.tax to anyone looking to do crypto taxes this year!
If you found this article useful, please support CBR by making any purchase on Amazon through our affiliated link
, or make a donation. Our team of volunteers greatly appreciate your support!