On February 22nd, we published an article titled "Bitcoin Set For Sustained Rally". In the article, we conducted a technical analysis and noted the favorable chart setup and positive fundamental developments points to a favorable risk-reward profile for owning Bitcoin. Since we published the article, Bitcoin appreciated 16.4% (as of March 3rd close). As promised to our readers, we are following up on our call after Bitcoin recently crossed above its 50-day moving average, a catalyst we flagged in the previous article. We are happy to report that the chart setup and fundamentals all remain on solid footing. Thus, we continue to be bullish on Bitcoin and believe that the price should continue to move up from here.
If you found this article useful, please support CBR by making any purchase on Amazon through our affiliated link
, or make a donation. Our team of volunteers greatly appreciate your support!
Crossing the 50-Day Moving Average
Note that in the chart below, the blue line (Bitcoin's closing price) crossed above the gray line (Bitcoin's 50-day moving average) on the first day of March. Since March 1st, Bitcoin rallied another 5% and is now a solid 10% above its 50-day moving average and 29% above its 200-day moving average (as of March 3rd closing price).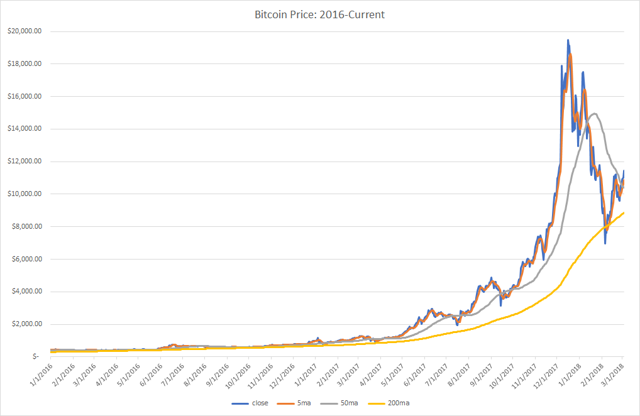 (Source: Crypto Blockchain Research)
In our previous article, we noted that Bitcoin was just 9% away from crossing above its 50-day moving average, which has historically led to above-average returns over the subsequent 60 trading days. This time around, we took a more rigorous approach in quantifying our claim. Using data going back through 2012, we looked at the subsequent 60-day rallies when the closing price satisfied all the following conditions, which is designed to be similar to the current situation:
The previous 7 trading days were spent below its 50-day moving average (in the most recent sell off, Bitcoin spent 49 days trading below its 50-day moving average)
The price just crossed above its 50-day moving average.
The price is above its 200-day average.
Looking at Bitcoin's data going back through 2012, and with the visual help from the chart below, we may conclude that the average and median past returns when such conditions were met were 54% and 33%, respectively, vs. a comparable-period average and median of 42% and 15.4%, respectively.
Another interesting observation is that only 5 days over a period of 1,963 days met the above 3 conditions and are thus comparable to the current situation. The lowest subsequent 60-day return among these 5 days was 4% while the median return is more than double the median 60-day return within the same period. In other words, not only are the returns higher, but the risk also appears to be lower when you buy after Bitcoin crosses its 200 and 50-day moving averages, after spending a week or more trading below the 50-day moving average.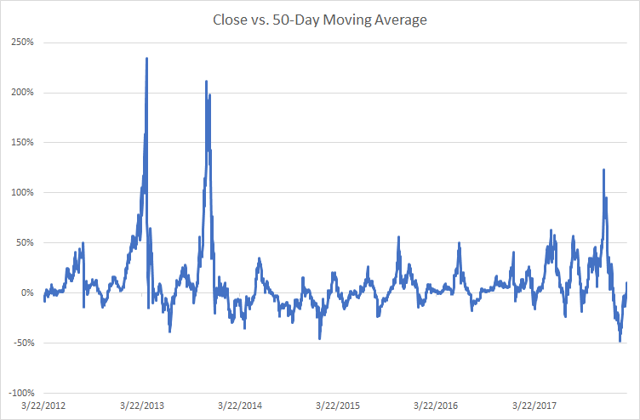 (Source: Crypto Blockchain Research)
Fundamental Developments Remain Positive
In our previous article, we noted two positive regulatory developments, one coming from the federal level and another from the state level that helped shift Bitcoin sentiment from negative to positive.
Since then, in our view, the biggest fundamental development occurred on February 26th when a Goldman (GS) backed venture, Circle, acquired Poloniex, the 14th largest crypto exchange in the world. Exact numbers were not disclosed, but people close to the deal said the purchase price was around $400M — this isn't pocket change even for Goldman.
Bitcoin rallied 7.6% on the 26th, and a further 11% through March 3rd. Why is the Bitcoin market so excited by this news? Goldman is arguably the most astute and respected financial institution in the world, and this acquisition is their entry into the crypto market. Nothing pleases Bitcoin holders (or technically "hodlers" if they are hardcore) more than any news that indicates mainstream adoption of Bitcoin and other cryptocurrencies. If you want to see what insiders have to say about this subject, take a look at this November 2017 presentation by Mike Novogratz (hint: the title of the talk is "The Herd is Coming").
In conclusion, given the continued positive chart setup and fundamental developments, we remain bullish on Bitcoin.