As we forecasted earlier, NVDA has crushed estimates and bears again. Q4 results were driven by gaming (read crypto mining). Read on to see what Q1 has in store for NVDA (hint: more good news is likely to come).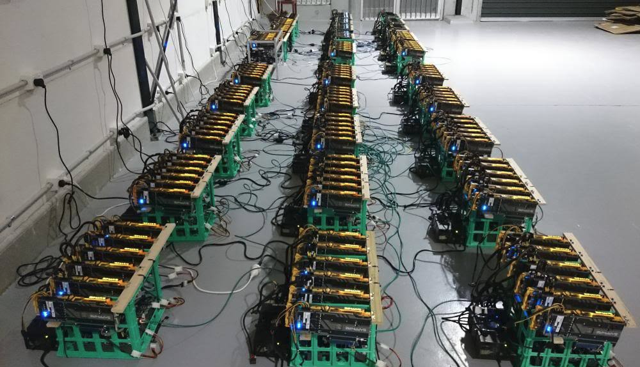 On February 6th, we published an article titled Nvidia: Crypto Business Will Run Over Bears. In that article, we responded to Citron's misguided attack on NIVIDA (NVDA) heading into earnings. Specifically, we took issue with Citron's argument that the Bitcoin (COIN, OTCQX:GBTC) selloff will negatively impact GPU demand. Our thesis was that the market is likely underestimating the company's exposure to cryptocurrency mining and thus underestimating the demand for NVDA's GPU business. As promised to our readers, we are following up post NVDA's earnings, which we believe validates our thesis. Furthermore, we believe NVDA's Q1 guidance is conservative, and that crypto demand will lead to another "beat and raise" quarter.
On February 8th, after the market close, NVDA reported FY4Q18 (quarter ended January 2018) earnings that blew away consensus estimates (Source: 8-K). As we predicted, NVDA ran over bears as the stock rallied 6.7% on Friday, the first day of trading after NVDA reported earnings.

(Source: all consensus numbers are from FactSet)
Let's first look at the numbers broadly. For Q4, revenue beat consensus by 9% while GAAP EPS came in at 53% higher than consensus. The guidance for Q1 is even more impressive as revenue is guided to 18% higher than consensus while operating expenses is only 5% higher, demonstrating strong operating leverage. Gross margin is also guided to a whopping 320 bps higher than consensus.
These numbers are even more impressive when put in context. Two fun facts:
This is NVDA's 10th consecutive "beat and raise" quarter, which demonstrates the strong, persistent secular tailwind behind NVDA.
While the Q1 guidance's implied flattish sequential revenue growth may not look impressive for the casual follower, Q1 has historically been a seasonally weak quarter that typically drops 10-13% sequentially. In other words, demand is so strong that it broke NVDA's typical seasonality.

(Source: all consensus numbers are from FactSet)
Digging into revenue by business segments, by far the biggest contributor to Q4's above-consensus results is Gaming, which contributed 74% of the revenue beat, although gaming is just under 60% of the quarter's revenue. Why is this important to our thesis? The Gaming segment offers GPU that is used to for cryptocurrency mining, which we argued was an underestimated driver of GPU demand. It should also be noted that the OEM segment also beat consensus by 8%, and this segment includes a dedicated board for crypto mining.
Per the CFO's commentary, "Strong growth across our Pascal™-based GeForce® gaming GPUs was driven by new games, holiday-season demand, iCafe upgrades, eSports and cryptocurrency mining."
In the earnings call, the CFO provided more color on NVDA's crypto business:
Strong demand in the cryptocurrency market exceeded our expectations. We met some of this demand with a dedicated board in our OEM business, and some was met with our gaming GPUs. This contributed to lower than historical channel inventory levels of our gaming GPUs throughout the quarter. While the overall contribution of cryptocurrency to our business remains difficult to quantify, we believe it was a higher percentage of revenue than the prior quarter.
We note that it is nearly impossible for NVDA to quantify its crypto exposure because its high-end gaming GPU could be used as a dedicated crypto miner, a dedicated gaming GPU, or a combination of both. Although we could use the change in hash compute used to mine Ethereum as a proxy, there are many other cryptocurrencies that could be profitably mined with GPUs, and there is no way to tell whether the hash compute comes from NVDA's or Advanced Micro Devices' (AMD) GPUs.
In our previous article, we estimated that NVDA's crypto exposure was around 3-4% as of Q3, however we revised up our estimates after AMD reported results. Given AMD's crypto exposure is likely in the 6-7% range and that crypto demand exceeded NVDA's expectations in Q4, we now believe that NVDA's cryptocurrency exposure has grown to the high-single-digit range. Furthermore, we believe that cryptocurrencies could continue to become a bigger mix of NVDA's business and that its Q1 guidance on crypto is conservative. In other words, we expect crypto to drive better-than-consensus Q1 results. We will support this argument below.
Later in the call, the CFO added, "We're working really hard to get GPUs out into the marketplace for the gamers, and we're doing everything we can to advise e-tailers and system builders to serve the gamers. And so we're doing everything we can. But I think the most important thing is we've just got to catch up with supply."
We find it curious that on the one hand, NVDA is trying hard to supply the gaming market, and on the other hand, NVDA is projecting no sequential crypto growth in Q1. In our view, if crypto demand stays flat and NVDA ramps up production as they say they will, there will be no need for them to encourage the market to prioritize the gaming market.
Why is this so? It is well known in the crypto world that demand for cypto mining has led to massive GPU shortages. For example, this article document gamers' frustration at the shortage of GPUs as crypto miners deplete inventories and bid up prices in the secondary markets such as eBay (EBAY) and Craigslist. This makes sense since although gaming is a strong growth industry, it is still growing in the low double digits in 2017. On the other hand, Ethereum, the 2nd largest cryptocurrency and one that is mined by GPU, grew 11,171% since the beginning of 2017 (as of 2/2/2018).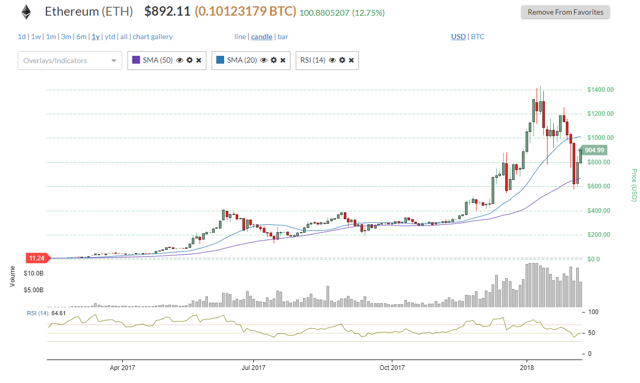 (Source: Bitscreener.com)
In our view, it is the rise of crypto that is driving NVDA's 29% y/y gaming revenue growth in Q4. Gven the massive appreciation in Ethereum's value over the past year (which includes including the recent pullback) and the persistent GPU shortage, we believe that NVDA's crypto exposure will grow sequentially in Q1, thus providing upside to their guidance.
In conclusion, NVDA's Q4 results and Q1 guidance blew away consensus estimates and ran over bears. In our view, although difficult to quantify, a significant portion of the upside came from demand from crypto mining. We point to the fact that NVDA's Gaming segment provided a disproportionate upside to consensus in Q4, and the GPUs used by gamers could also be used to mined cryptocurrencies. We point to Ethereum's hyper growth and the fact that NVDA's Gaming segment is growing nearly 3x the rate of the global video game industry. The shortage of GPUs in the market caused by crypto miners suggests to us that crypto miners will continue to domination incremental unit growth in the market place, once again driving upside to NVDA's Q1 results.
If you found this article helpful, please follow up for the latest updates. If you have any questions or comments, we would love to hear from you. Let's discuss in the comment section below!