All eyes are on Ethereum this year as it is gaining ground on Bitcoin. Will a flippening happen in 2018? We think it could be likely. Continue reading to find out why.
Ethereum enthusiasts grow excited at the possibility that ETH's market cap could rise higher than Bitcoin's. Some believe that in 2018, ETH will overtake Bitcoin as the number #1 cryptocurrency by market cap in an event to be known as the "flippening". For those who are not in the know, "flippening", like "hodl", is jargon that emerged in the crypto world. According to Wikipedia, "In the middle of 2017 there were increasing concerns, or expectations, that Ethereum would eventually take over the role as the most important cryptocurrency in the market. This possible event was dubbed The Flippening." We believe that if this is to occur, ETH's relative momentum vs. Bitcoin will likely accelerate as attention shifts from Bitcoin to Ethereum as the "king of cryptos". We believe this potential catalyst is underappreciated by the causal follower of cryptocurrencies, and thus continue to favor ETH over BTC.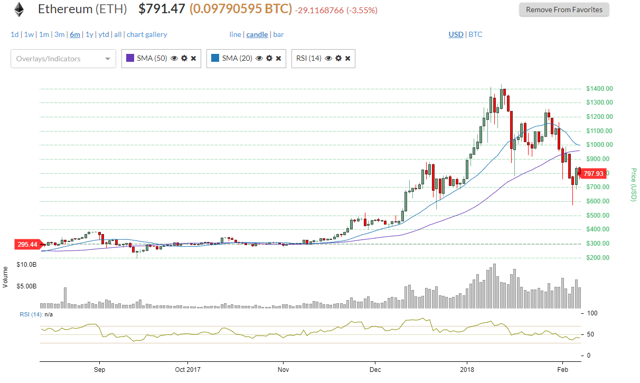 (Source: Bitscreener.com)
Ethereum co-creator Steven Nerayoff certainly sees the potential for the flip to happen this year. As he told CNBC, "What you're seeing with Ethereum is exponential increase in the number of projects […] maybe 10 times more projects this year than last year, which could easily lead to a doubling, probably a tripling in price by the end of the year." Nerayoff believes ETH can become more valuable than Bitcoin in terms of market capitalization because it processes transactions faster and cheaper.
Of course, considering he helped create Ethereum, Nerayoff is bound to be a bit biased. Let's take a look at the numbers ourselves.

(Source Flippening Watch)
Currently, Bitcoin is in the lead, followed by Ethereum. Ripple, in its third place slot, has a market cap that is only about a fifth of Bitcoin's. If any cryptocurrency is going to surpass Bitcoin, Ethereum is clearly the most likely. But why do people think 2018 is the magical year Bitcoin would drop to number two? Is the gap between their market caps progressively shrinking?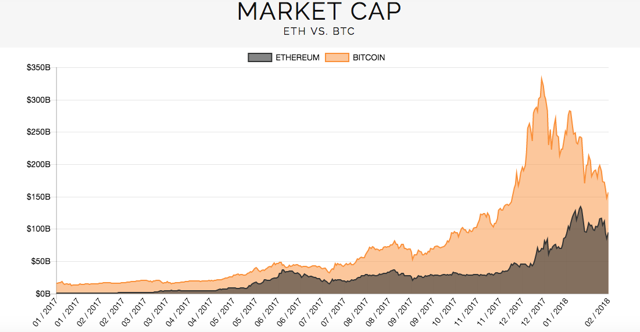 (Source Flippening Watch)
As you can see from the above chart, Ethereum's valuation is rapidly converging to Bitcoin's. We won't repeat ourselves here, but for a more detailed review of Ethereum's out-performance in 2017 during the rally, and continued out-performance during the 2018 sell-off, please read our previous article. We believe that there are many fundamental reasons for Ethereum's performance relative to Bitcoin. From mortgages to healthcare to entertainment, there are endless ways to use ETH. Leading financial institutions such as Barclays and UBS have already partnered up with Ethereum. Founder Vitalik Buterin recently announced they are looking to increase their network size and will be investing in initiatives to do so, which has generated considerable excitement. This reminds us that unlike Bitcoin, whose founder remains in hiding, Ethereum has the advantage of having a high profile, and highly engaged founder.
Both Bitcoin and Ethereum face scalability issues. Over the summer, Buterin wrote to Reddit users, "Scalability sucks; the blockchain design fundamentally relies on bottlenecks where individual nodes must process every single transaction in the entire network." Around the same time, it was reported their network uses about the same amount of electricity as the entire country of Moldova. According to Digiconomist's Ethereum Energy Consumption Index, the amount of energy usage has continued to rise over the last six months.

(Source Ethereum Energy Consumption Index (beta) – Digiconomist)
Ethereum has its problems, but the fact that its creator both know the problems and are open about them is a good sign. It shows they are taking proper steps to make ETH better vs. the infighting we see at Bitcoin. But addressing its issues publicly, it also makes it easier to trust the Ethereum team aren't keeping too many secrets from us. Given stronger leadership at Ethereum, we believe that the Ethereum team is more likely to solve its scalability issues than the Bitcoin. Thus, we see a good chance of a 2018 "flippening", which may be completely underappreciated by the casual follower of crypto.
ETH seems to have a bright future. The best indicators of Ethereum overtaking Bitcoin are their price increases over the last year. Bitcoin rose about 675%. ETH has risen over ten times that! If it continues to rise at its current rate, come next year Ethereum investors will be looking at a hefty profit.

(Source Coinbase – Buy/Sell Digital Currency)

(Source (Source Coinbase – Buy/Sell Digital Currency)
If the "flippening" happens, what would this mean for the market? We believe that this would bode well for ETH and those who have invested in it. The cryptocurrency at the top will likely enjoy more attention from the media (imagine the headlines when Bitcoin is no longer the #1 cryptocurrency), more attention from new investors (and thus more incremental capital inflows), and more attention from developers. In this event, investors and developers in the Bitcoin ecosystem will likely question their commitment to a market-sharing losing coin.
In conclusion, we believe investors should be aware of the very real potential of Ethereum overtaking Bitcoin as early as this year. Ethereum's price performance has been superior to Bitcoin's on both the way up and on the way down as excitement and use cases for the platform grows. While Bitcoin and Ethereum both faces scalability challenges, we have more confidence in the Ethereum team's ability to solve this problem given its stronger leadership. Solving its scability issue will likely further propel Ethereum's market share relative to Bitcoin. In the event that Ethereum overtakes Bitcoin, we believe that the increase in attention to the new "king of crypto" will further accelerate Ethereum's momentum.
If you found this article helpful, please follow up for the latest updates. If you have any questions or comments, we would love to hear from you. Let's discuss in the comment section below!