After highlighting Ethereum in my previous article, it managed to shoot up and breach the epic $1,000 mark today before dropping back down to mid 900s at the time this article was written. In that article, I talked about the tech behind ETH and how it is poised to be the top Blockchain platform of 2018, potentially stealing the spotlight from Bitcoin (COIN, OTCQX:GBTC). In this article, I will focus on some key metrics that lead me to believe that ETH will be a breakout performer once again in 2018.

(Source: Coinmarketcap.com)
The $1,000 Wall
For those of you short-term traders out there, expect to see ETH bounce around below $1,000, as it encounters significant resistance at that point. Psychologically, $1,000 is a powerful barrier that will scare off some investors, as people are still wary of paying $1,000 per token for a digital asset. In addition, we are very close to the $100 billion dollar market cap figure as well, so this is another mental milestone that may take some time to cross.
However, this barrier has already been breached, in a way. As you can see below, ETH is trading at an incredible premium on South Korean exchanges that far exceeds the $1,000 mark. Since the South Korean exchanges require proof of residence to trade on their exchanges, there is no arbitrage between those exchanges and outside markets.

(Imagine what the price is in North Korea! Source: Coinmarketcap.com)
To top it off, Ripple has recently exploded to overtake Ethereum and achieve a market cap of $124 billion dollars. The $100 billion dollar mark is no longer rarefied air, so don't hesitate too long if you want to jump in to ETH!
Network Traffic
Those of you trying to purchase or send ETH using Coinbase may have run into this message:

(Source: Coinbase.com)
The exchange has been flooded with so many new users and rapidly increasing volume of transactions, that it has become nearly impossible to scale up to meet demand. Some of the delay is also due to congestion that is being seen on the ETH network.
People have been complaining about slow ETH transaction speeds (though still much faster and cheaper than Bitcoin). There is definitely a silver lining to this cloud, however. The reason is because of the incredible traffic that is flowing through the ETH network. More transactions have gone through ETH than any other cryptocurrency, including Ripple (a very close 2nd) and Bitcoin.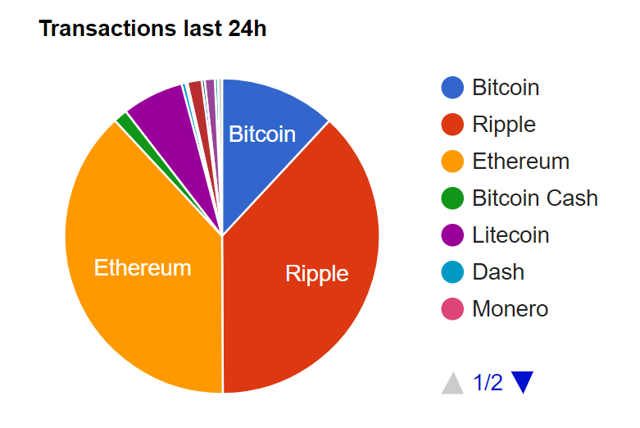 (Source: Bitinfocharts.com)
What are people doing with all these ETH transactions? A significant portion of it is being used to trade for other altcoins on exchanges. Most cryptocurrency exchanges that accept USD, especially the main ones in the US, Coinbase/GDAX and Gemini, only allow a few choices for purchase, including Bitcoin and ETH. Since ETH is much faster and cheaper to transact that BTC and at least as ubiquitous on other exchanges, it has become the preferred medium of exchange in the cryptoeconomy.
Recommendations:
If you are a short-term trader, you may want to wait for a dip to buy. Alternatively, you can try to ride on the momentum after ETH crashes through the $1,000 barrier on US exchanges. If this is your strategy, keep your ETH funds on an exchange like Binance, where you can quickly liquidate into altcoins and roll your profits into other trending coins.
If you currently are long significant amounts of Bitcoin and Litecoin, consider transferring value into ETH. If you are a Coinbase user, you can use GDAX (Coinbase's exchange) to circumvent the outrageous fees that buying and selling on their main website incurs. Simply transfer your BTC or LTC to GDAX from Coinbase and convert to ETH on GDAX. If done correctly, this process will cost you nothing.
Long-term, ETH is a no-brainer for us at Crypto Blockchain, and we will continue to hold for the foreseeable future. A bit of advice, remember to store your crypto assets in a wallet rather than on the exchange. An exchange can go belly-up at any time and even though Coinbase and Gemini are FDIC insured, this only covers your USD, not your cryptocurrency.
Comment below with questions and suggestions for new articles! Happy hodling!