2017 will go down as the year in which Bitcoin reached the mainstream. Bitcoin generated staggering returns and reached a high of $20,000 per coin. However, the story of 2018 may well be non-Bitcoin cryptocurrencies, known as 'Altcoins'.
Some of these coins are clones or 'forks' of Bitcoin, however, the most intriguing ones claim to either accomplish what Bitcoin set out to do but better (i.e. faster, more secure digital transacting) or attempt to completely change the landscape of cryptocurrency altogether through exciting features like integration with the 'Internet of Things' and the use of 'Smart Contracts'. Combined, Altcoins now outweigh the market share that was long dominated by Bitcoin. As a result, we are somewhat cautious about adding to our Bitcoin holdings at these levels or owning any of the exchange traded trusts such as Winklevoss Bitcoin Trust (COIN) and Bitcoin Investment Trust (OTCQX:GBTC).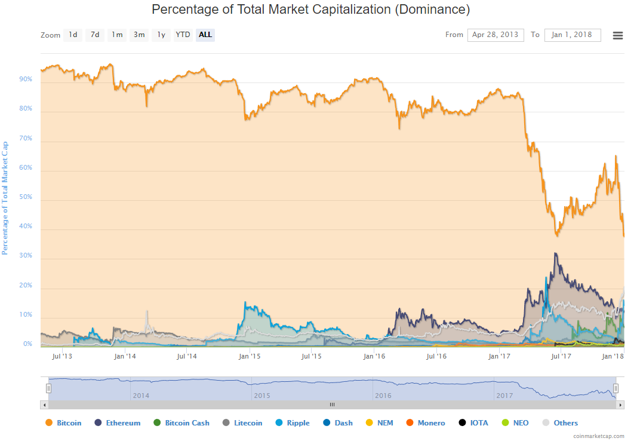 (Bitcoin's market dominance has ranged from over 90% in 2013 to < 40% now. Source: Coinmarketcap.com)
Since there are so many enterprising cryptocurrency projects that aim to change the world, which ones are worth your investment? The good news is that the market has already done the work for you by identifying and rewarding the most promising projects with high but rapidly increasing market caps.
In this article, I will highlight a few Altcoins that show great promise for 2018 and beyond. These Altcoins have already demonstrated success via high valuations and the attraction of institutional investors and partners, but more importantly, implement cutting-edge technologies that give them unlimited upside.
Given that you want to invest in cryptocurrency, it would be foolish to limit your portfolio to Bitcoin. Additionally, the maturation of this technology could translate into a competitive edge for many established corporations, so an astute investor should not neglect to be attuned to developments in this sphere, even if not directly invested in Altcoins.
Ripple
One of the great success stories of 2017 was the rise of Ripple from an entity well known in the cryptocurrency community to a coin that has captured the attention of huge corporations and boldly claims to transform payments by connecting 'banks, payment providers, digital asset exchanges, and corporates via RippleNet to provide one frictionless experience to send money globally.' (Ripple.com).
Ripple's cryptocurrency, known as XRP, has seen a tremendous price increase from less than 1 cent at the beginning of the year, to over $2 at the time this article was written. The value of the token itself is in its high throughput and low fees, enabling near-instant transfer of money globally. Recently, it supplanted longtime #2 currency, Ethereum, from its place among the market cap leaders.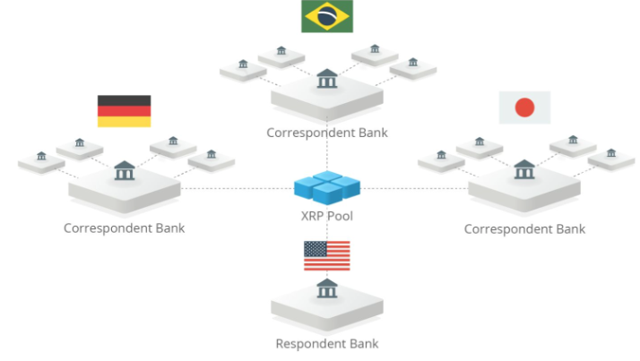 (source: Ripplecoinnews.com)
In terms of reputation, Ripple has credentials rarely seen in the cryptocurrency world. It is a VC backed firm that is not dependent on the value of its currency for funding. Originally founded in 2004, the company predates Bitcoin, and operates a vast exchange network that utilizes XRP, but can work without any blockchain technology altogether. Ripple has attracted over 75 banks to its network. Notable partners include UBS (UBS), Bank of Montreal (BMO), SBI, and American Express (AXP) — which has already launched a Blockchain based payment system with Ripple.
If Ripple's Network adoption increases, the demand for XRP would skyrocket, pushing up the price. If XRP is able to capture just a small portion of the antiquated SWIFT transaction volume that it is trying to replace, this will greatly increase XRP's value. Also, watch for Coinbase, the largest and most well-known cryptocurrency exchange, to list XRP sometime in early 2018, as it is now the 2nd most valuable cryptocurrency. This should give XRP a huge boost in value as well.
IoTA
Perhaps the most technologically impressive Altcoin is known as IOTA. The development of IOTA represents a new generation of cryptocurrency, using what is known as the Directed Acyclic Graph (DAG) technology, instead of the standard Blockchain confirmation process. This DAG process purports to be more efficient and is immune to hacks, even when quantum computing technology is used (a possible future weakness of Bitcoin). Since IOTA can be transacted securely and precisely with such zero fees, it can be used for myriad micro-transaction applications. IOTA's focus is on the IoT or 'Internet of Things'. Allowing these connected objects to interact with each other in myriad ways.
Many of these applications have yet to be thought of, but a classic example is a network of driverless cars connected to each other on IOTA could 'negotiate' with each other to allow the passenger who places the greatest value on time to catch the first autonomous vehicle to arrive on time.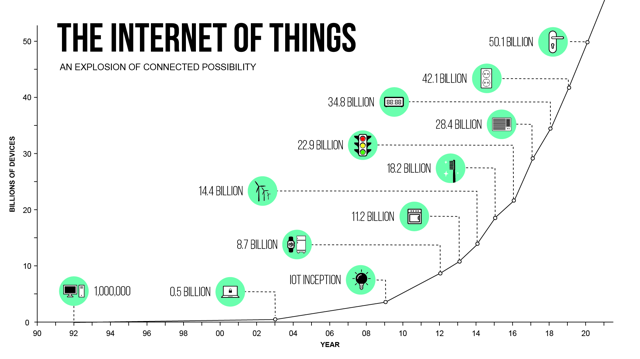 (source: The Internet of Things – infographic The Connectivist based on Cisco data)
As more and more of our daily objects become connected to the digital world, IOTA is perfectly positioned to become the medium of information transfer for the future. Look for big announcements in early 2017 from IOTA and a potential for rapidly increasing market cap.
Ethereum
If Bitcoin is the gold standard for Cryptocurrency, then Ethereum can be thought of as platinum. Ethereum has lower transaction fees and faster transaction times and many exchanges are starting to use Ethereum as the base for markets. However, the main advantage of Ethereum is the ability to create 'Smart Contracts' and decentralized apps within its blockchain.
Decentralized Apps, or DApps, allow users to create their own apps on the Ethereum blockchain. This cuts out the middleman and promises a decentralized 'app store', where users can create their own apps, free from middlemen and censorship. CryptoKitties, released about a month ago, was one of the first Ethereum DApps and the first popular Blockchain-based game. This demonstrates how the technology could evolve to form entire online marketplaces and obsessed communities. Some of these digital creations even fetched more than $100,000!

(A silly-looking game, but showcasing the power of Ethereum DApps Source: CryptoKitties.com)
Many new ICOs out there are ERC20 tokens that operate within the Ethereum ecosystem. Being in the Ethereum framework gives a bit of credibility to new cryptocurrencies and allows users to know that the new cryptocurrency met certain standards and will be transacted via an established network. As a store of value, Ethereum may never supplant Bitcoin, but it is better positioned for the future, due to the additional blockchain features that it allows compared to the relatively basic Bitcoin.
Many Fortune 500 companies have taken note of Ethereum and joined the Enterprise Ethereum Alliance, a consortium of companies and academia that is developing business use cases for Ethereum. This partnership is largely exploratory at this point, but it just shows that people have begun to take note of Ethereum's potential. Notable members include Accenture (ACN), Cisco (CSCO), CME Group (CME), Microsoft (MSFT), and JP Morgan (JPM), whose CEO, Jamie Dimon, famously asserted that Bitcoin was a fraud.
Risks
Altcoins, like Bitcoin, are extremely volatile commodities that are a high-risk, high-reward investment. Unlike Bitcoin, which has proven itself to be an antifragile, veteran asset, many altcoins don't have the history of weathering storms of market sentiment, hostile regulators, and attacks from hackers. The three cryptocurrencies presented in this article are safer than the average cryptocurrency due to their wider adoption, but they are still vulnerable to risks in this developing market. Therefore, we recommend cryptocurrencies as a small, supplemental part of your portfolio that can generate significant upside due to disruptive technology.
Conclusion
We believe that the landscape of cryptocurrencies is shifting away from being Bitcoin-dominant. While we continue to hold Bitcoins directly, we are not buyers here and are skeptical of exchange traded trusts such as the Winklevoss Bitcoin Trust and Bitcoin Investment Trust, which could trade at substantially above (and potentially below) NAV. In 2018 and beyond, a thoughtfully constructed basket of altcoins can potentially generate outsized returns and allow investors to be a part of the next generation of Blockchain technology.