When Bitcoin began its sell off in mid December, certain investors were concerned about the potential negative impact on NVIDIA (NVDA).These investors were right to be concerned, as I will explain why in this article.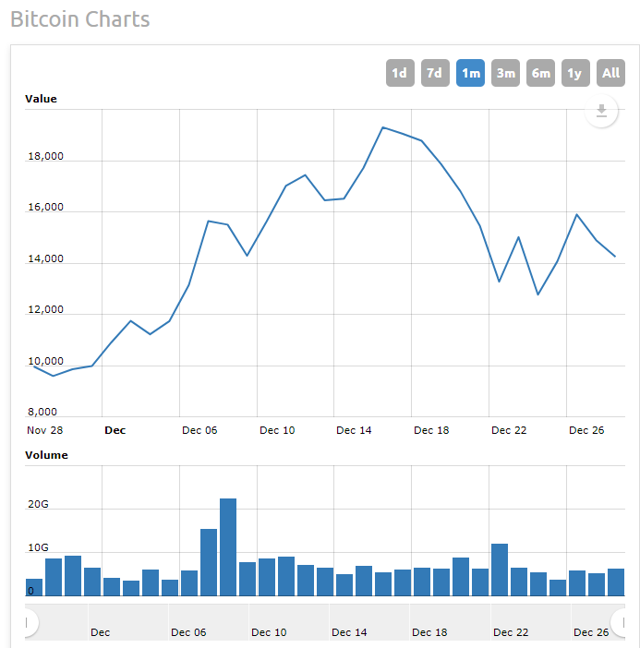 One argument NVDA bulls like to make is that Bitcoin is no longer mined by GPUs but by ASICs, which NVDA has no material exposure to. While this is true, many cryptocurrencies are still mined by GPUs made by NVDA and Advanced Micro Devices (AMD). The best known GPU-mined cryptocurrency is Ethereum, but there is a large ecosystem of other cryptocurrencies as well — for those bold enough to jump into the rabbit hole, check out Reddit's GPUMining community.
Cryptocurrencies tend to be highly correlated, which is not a surprising observation for cryptocurrency investors as they watched in horror as most of their crypto investments move in tandem during the recent sell off. And lower crypto prices decreases demand for mining equipment just like the decrease in oil prices reduced the demand for drill bits. So of course, a bitcoin sell off will negatively impact NVDA.
To understand how much NVDA has to lose in the worst possible crypto meltdown scenario, the key question investors should ask is "how exposed is NVDA to cryptocurrencies?"
The question is relatively easy to answer. In the last earnings call (quarter ended October 2017) on November 9th, the company disclosed that their dedicated crypto boards generated approximately $70M in revenue, down from $150M in Q2:
CFO: So in our results, in the OEM results, our specific crypto boards equated to about $70mm of revenue, which is the comparable to the $150mm that we saw last quarter.
However, keep in mind that the above revenue numbers are for boards designed specifically for cryptocurrency mining. Demand for cryptocurrency should also benefit NVDA's high end gaming GPUs, so NVDA's exposure to crypto mining should be higher than the disclosed numbers. Although management declined to break out a specific number, I believe NVDA's crypto exposure is likely greater than disclosed numbers. The logic is simple: interest in cryptocurrencies mined by GPUs should also help sales of NVDA's high end gaming GPUs, which has the dual use of providing a great gaming experience as well as generate income on the side, effectively lower the total cost of ownership from a consumer's perspective.
This view view isn't merely speculation. For example, refer to the following conversation between the analyst the NVDA's CFO during the Credit Suisse 21st Annual Technology, Media & Telecom Conference hosted on November 29th, 2017:
Analyst: … you did say that some of that crypto demand was made up for in the Gaming. Can you quantify that…

CFO: In Q2, is when we started to create board specifically for cryptocurrencies that we classify in our OEM business. Now keep in mind what that means is these are boards that can be done for compute, okay, meaning they do not have any graphics capability, so they can't be used for overall gaming… However, in certain times, if there is not the overall availability and or if the price of Ethereum reaches high levels, there's a fairly good return on investment by buying a high-end card. There could be a good return on investment that says, I could actually buy a higher end game [GPU], I can actually do gaming and mining at the same time, if I was doing that.
(Source: FactSet. Note that free transcripts are unavailable to the public. Please refer to paid sources such as Bloomberg or FactSet.)
Note that NVDA's did not disclose the company's additional crypto exposures, but clearly they have indicated that high crypto prices could drive demand for its high end gaming GPUs. This is important for investors to understand that a fall in crypto mining demand could hurt NVDA's revenue numbers beyond the disclosed crypto-specific mining GPUs. Conversely, if crypto demand picks up, NVDA also stands to benefit more than revenues generated from crypto-specific GPUs.
While we believe that NVDA's crypto exposure is greater than the numbers explicitly disclosed, we do caution investors not to get carried away with their estimates. In the October quarter's earning call, the CEO added:
… the longer-term way to think about that is this. Crypto is small for us, but not zero. And I believe that crypto will be around for some time, kind of like today. There will be new currencies emerging. Existing currencies would grow and value. The interest in mining these new emerging currency crypto algorithms that emerge are going to continue to happen. And so I think for some time, we're going to see that crypto will be a small but not zero part of our business."
Conclusion
Roughly speaking, NVDA's crypto exposure is likely to be in the low single digit range of around 3-4%, assuming $100M total revenue exposure in Q3 (2-3% exposure using only the disclosed numbers). Demand for NVDA's dedicated crypto boards and high end gaming GPUs will be lumpy, driven by product release cycles and the economics of cryptocurrency mining.
In the worst case scenario where cryptocurrencies all go to zero, NVDA could miss consensus sales expectations by 3-4%, which does not sound like a lot but investors must always remember that NVDA is a growth stock that shouldn't ever miss sales (without getting severely punished). Over the past 5 years, the worst quarterly miss on consensus sales was by 0.9% (all the way back in May 2015).
However, we at Crypto Blockchain Research do not see this revolutionary blockchain technology vanishing in thin air and remind investors to always consider the upside along with the downside. Prior to Q2, NVDA did not have a dedicated crypto board, and now it is 2-3% of total revenue (plus another 1% or so of indirect revenue from GPUs as discussed earlier). As interest in cryptocurrencies grow, we remain bullish on NVDA's ability to serve this exciting, emerging market.